Posted by By Eric G. Stark on 27th Jun 2017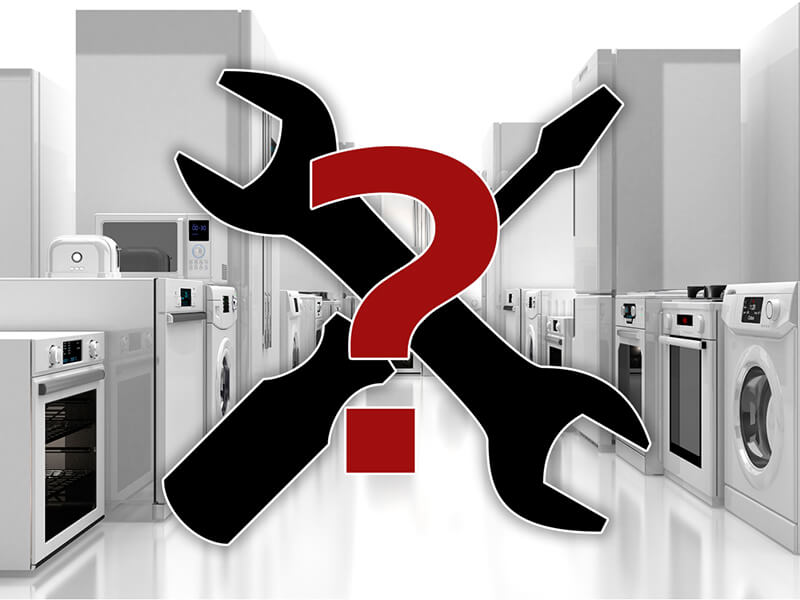 Should You Repair Or Replace Your Home Appliances?
When one of your most used appliances breaks down, you are left with the decision as to what to do. To repair or replace a broken appliance can be an expensive decision. How do you know if you are spending an appropriate amount on a quality product or if you're just throwing money down the drain with a temporary fix? Sometimes repairing a broken item just to keep them running a little longer is not always the best way to save money in the end.
Home appliances can be some of the biggest investments homeowners make. Even the most expensive appliances will break down every now and then. It's important to have an understanding of your home appliances, their value and what to do when it comes down to repairing or replacing them.
One important aspect of your home appliances to be aware of is their average life span. See below for a list of home appliances and their expected life spans.
VIDEO: Should home owners repair or replace appliances?
How Long Can You Expect Your Appliances to Last?
| | |
| --- | --- |
| Appliances | Expected Life Span |
| Air Conditioners | 8-15 Years |
| Attic Fans | 15-25 Years |
| Boilers | 20-35 Years |
| Compactors | 6 Years |
| Dehumidifiers | 8 Years |
| Dishwashers | 9 Years |
| Dryers | 10-13 Years |
| Ducting | 10 Years |
| Exhaust Fans | 10 Years |
| Freezers | 10-20 Years |
| Furnaces | 15-20 Years |
| Garbage Disposals | 10-12 Years |
| Gas Ovens | 10-18 Years |
| Gas Ranges | 15-17 Years |
| Heat Exchanger | 10-15 Years |
| Heat Pumps | 16 Years |
| Heat Recovery Ventilators | 20 Years |
| Hot Water or Steam Radiant Heater | 40 Years |
| Humidifiers | 8 Years |
| Induction and Fan-Coil Units | 10-15 Years |
| Microwaves | 5-10 Years |
| Range/Stove | 13-15 Years |
| Refrigerators | 13-19 Years |
| Thermostats | 35 Years |
| Washers | 10-14 Years |
| Water Heaters | 10-25 Years |
Though the above list lays out the average life spans of each home appliance, that does not necessarily mean it will or will not last that amount of time. Ultimately, the life span is going to depend on the brand of the appliance, as well as how it is taken care of. Homeowners unfortunately make the mistake of overlooking routine maintenance for their appliances. If proper maintenance is not regularly scheduled, appliances are eventually going to fail.
On the other hand, sometimes no matter how well you follow suggested guidelines, one of your appliances are eventually going to stop working. That's when you are then faced with the challenge of deciding whether to repair or replace the broken appliance. How do you make that decision?
Should You Repair or Replace? Consider These Aspects When Making the Decision on Your Appliances.
The age of the appliance – if the appliance has reached or exceeded its expected life span, replacement is your best option.
Hidden costs (removal, installation, tax, etc.) – identify what additional costs may be present with a replacement; they could add up to cost more than a repair.
Benefits of a new appliance – if there are cost saving benefits to a newer appliance; a new appliance could be the best route to go.
The extent of the repair needed – if the repair is minor, it would make more sense to make the repair rather than replacing.
Compare costs of repairing vs. replacing – if the repair is significantly less than a replacement, it makes sense to make the repair.
Home warranty – is your appliance covered under a home warranty? If so, it may cover a portion of the repair, the entire repair or even a new replacement.
When major appliances breakdown or require upkeep, it can often land you in a costly rut. The price of repairing a larger appliance can depend on a variety of facets; age, brand, model, etc. Whom do you call for these repairs? When choosing an appliance repairman or contractor, you'll want to gather more information about their fees and what's included in the initial pricing. Are the required parts included? How much of the fee is attributed to labor? Is there a service fee?
Finding a good repairman is an important task. Not only do you want to make sure they are affordable, but you also want to know that they are reliable and trustworthy. Because McCombs Supply knows how imperative but difficult this process can be, we've put together a guide to help you. From before the process even begins to all the information in between, this guideline will literally guide you throughout the entire process.
What Are the Average Repair Cost Ranges of Major Appliances?
Air Conditioner; $200-$400
Dishwasher; $100-$200

Most common repairs and cost to fix:

Drain pump cleaning: $100-$300
Water inlet valve: $160+
Control board failure: $190+

Parts can be purchased here.

Dryer; $100-$400

Most common repairs and cost to fix:

Coils: $170
Thermostats: $130+
Belts: $180+

Parts can be purchased here.

Furnace; $100-$130
Microwave; $75-$150

Parts can be purchased here.

Oven/Range; $400-$700

Most common repairs and cost to fix:

Igniter cleaning or failure: $110-$200
Broken control board: $260+
Bake element problems: $160+

Parts can be purchased here.

Refrigerator/Freezer; $200-$400

Most common repairs and cost to fix:

Ice maker failure: $275-$325
Freezer motor replacement: $200-$250
Main control board failure: $260+
Clogged drain line: $109+
Rattling sounds: $50

Bottom and top refrigerators – if less than seven years old, consider repairing. Replace if older than seven years old.
Built-in refrigerators – worth repairing because there is more work involved since they are built into your kitchen.
Side-by-side refrigerators – if less than five years old, consider repairing. Replace if older than five years old.
Parts can be purchased here.

VIDEO: Tips to Keep Your Washer Performing at its Best

Washing Machine; $120-$500

Most common repairs and cost to fix:

Rubber door gasket replacement: $200-$300
Lid switch failure on top-loading machine: $140+
Water inlet valve issues: $160+

Parts can be purchased here.

Water Heater; $90-$110

Parts can be purchased here.
5 Tips for Home Appliance Repairs
Registering your appliances with your manufacturer will give them a better understanding of the exact parts your appliance will need.
To save money and time, group several appliance repairs into one call if possible.
Use a local handyman for repairs; this is a cheaper option compared to using a larger company.
Get a guarantee, in writing, with your repair.
Find out what's included in pricing and what falls under extra charges.
What Are the Average Replacement Costs for Major Home Appliances?
Does Your Appliance Have a Warranty?
Before calling a professional, make sure you check the warranty on the appliance that is in need of maintenance. If any of your appliances have warranties, it will definitely save you money on repairs, possibly even pay for the entire repair. Many major appliances come with a standard one to two-year factory warranty. If you locate the serial number and call the associated phone number, you will be able to check the status of the warranty and file a claim. If covered, your appliance should be repaired at no cost. If you did not purchase an extended warranty for any of your current major appliances, consider doing so for new purchases. The most expensive appliances to keep this in mind for include refrigerators, stoves, wall ovens, and front-loading laundry machines.
Should You Repair or Replace? Our Recommendation:
By now, you are probably really asking yourself, "Do I repair or replace my broken appliance?"
If the appliance is protected by a warranty and you do not have to shell out money for a costly repair, take advantage of the warranty. Depending on the warranty, the entire repair may be covered. The 50 percent rule should guide you to make the best decision. What is the 50 percent rule? If a repair would cost half or more of the value of a new appliance, it should be replaced.
We hope this information will help make your decision a little easier. If you have any questions about home appliances and replacement parts, call McCombs Supply Co. at 717-299-3866. We would be happy to assist you.