Posted by By Eric G. Stark on 3rd Aug 2018
The percentage is likely high that burnt food is caked on the side of this kitchen appliance. Unless the only thing you do in the microwave is reheat your morning coffee, you know how dirty inside of this appliance can get.
There is also the odor - burnt popcorn, maybe - and traces of crusty cheese and the splattering of sauces.
Chances are good the microwave is a high-traffic area in your kitchen. Even with proper precautions, splatters and and spills happen. Give your microwave a hearty, all-natural cleaning to rid your microwave of pesky stains without the use of harsh chemicals.
McCombs Supply offers 5 tips for cleaning a microwave naturally.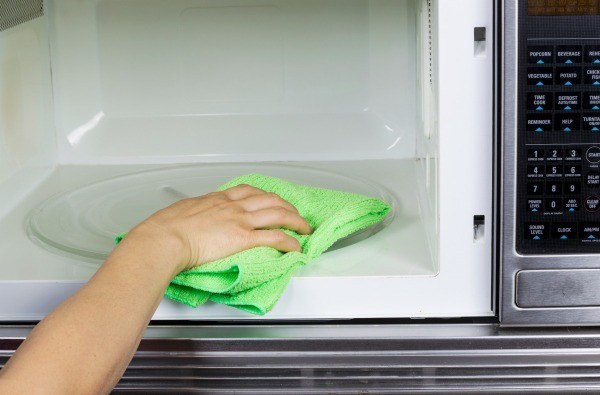 You will need:
Oven mitts
A microwave-safe bowl
Water
A lemon
A clean cloth rag
Instructions
Fill the bowl with about 1 cup of water.
Cut your lemon in half and squeeze the juice into the bowl. Place the lemon rinds into the bowl as well.
Place the bowl into your microwave and cook the concoction for 3 minutes, or until it boils.
Let the water mixture stand for at least 5 minutes. The steam will loosen those hard-to-clean spots.
Use the clean rag to wipe down every surface of the microwave, including the door and under the glass turntable tray.

- If this doesn't work to remove the dirt, try these steps.

Step 1: Wipe Everything Down
Use a sponge and hot soapy water to wipe down the door and inside. A helpful tip: Use a credit card to scrape up food that is stuck on the sides.



Step 2: Wash Removable Part
You can take out the turntable, rack or shelf and hand wash in the sink. McCombs Supply sells replacement turnables.



Step 3: Sanitize
Back to lemons. What is it about lemon and cleaning?
Lemon juice is great for cleaning an helping to remove ants. [ See related story on lemons and ants].

In this case, lemon juice provides a fresh smelling microwave (no more burnt popcorn odor). Place a bowl of water with a few tablespoons of lemon juice in the microwave and run it on high for a few minutes.

Get it hot enough for steam to fill the air. Then wipe down the inside of the microwave with a towel. Use the condensation to deliver a deep clean.

Need microwave parts? McCombs has a large inventory of replacement microwave parts. The inventory includes microwave door handles and microwave door switch.

Call McCombs Supply at 717-299-3866 and have your model number of your microwave. We can find the correct part number.




---




About Us

McCombs Supply Company, Inc.

In business since 1953, McCombs Supply Co., Inc. is a third-generation family-owned business that specializes in low prices and fast, reliable shipping.
Located in Lancaster, Pennsylvania, McCombs Supply Co., Inc. offers replacement repair parts for dishwashers, dryers, microwaves, range-ovens, refrigerators, washing machines, HVAC, commercial refrigeration, commercial cooking, pellet stove parts and more. Some of our manufacturers we distribute for include – Backer-Chromolox, Broan-Nutone, Exact Replacement Parts (ERP), EZ Flo, Fasco, Mastercool, ICM, JW Harris, Packard, Robertshaw, Sealed Unit Parts Company (SUPCO), White Rodgers, Englander, Breckwell, Harman, Lennox, Napoleon, St. Croix and Quadra-Fire.

We supply contractors, service technicians, housing developments, hospitals, retirement communities, institutions, and do-it-yourselfers.

Today, we have nearly one million SKUs in our system. We are constantly upgrading our cutting-edge technology to serve our customers better.
Copyright 2018

---